Africa Comics. Exhibition of African Comics. 2003 (Brochure)
Mulokwa, Tuf
Illustrator country: Kenya
Language: English
Keywords: award; comics; exhibition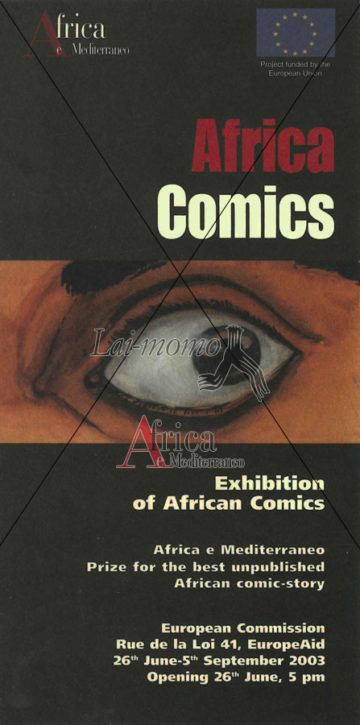 DETAILS add_circle_outline
Color
Digital print
Year: 26 June-5 September 2003
Dimensions: 10,5 x 21 cm
Inventory: inv. 1443 / coll. PR2.ITALY.AFRICACOMICS.4
Number of sheets: 4
Notes: On the first sheet: Africa e Mediterraneo Prize for the best unpublished African comic-story; European Commission Rue de La Loi 41, EuropeAid. Logos of: Africa e Mediterraneo, European Commission.

On the last sheet: The official partners of the European project are: Africultures (Francia); Centre d'art Contemporain (Belgio); Tache d'encre (Costa d'Avorio); ACRIA (R.D. Congo). Logos of: Regione Emilia Romagna, ISCOS, Provincia di Bologna, GRAFICHE DEL SASSO, SERBINO COLORI, VILLANI.

Invited artists: Amanvi (Ivory Coast); Barly Baruti (R.D. Congo); Pat Mombili (R.D. Congo); Thsitshi (R.D. Congo).