Au village
Seck, Meissa Moussa
Illustrator country: Senegal
Scenarist: Seck, Meissa Moussa
Scenarist country: Senegal
Language: French
Keywords: bite; snake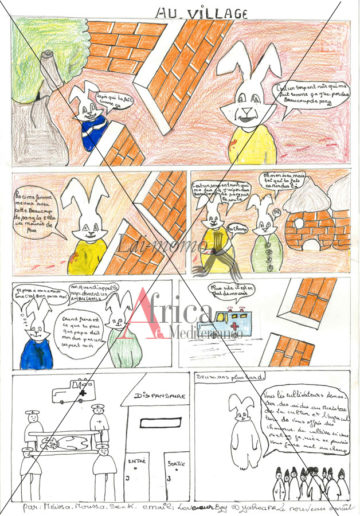 At the village – A rabbit is bitten by the a snake and goes to the hospital.
DETAILS add_circle_outline
Technique: Pencil, felt tip pen and ballpoint ink on paper
Color / Black and White
Original drawings
Dimensions: 33 x 49 cm
Inventory: inv. 1404 / coll. CX31.SENEGAL.SECK.1
Number of sheets: 1
Notes: The page on recto is signed: "Par: Meissa.Moussa.Sek; email: LoveeverBoy@yahoo.fr Le nouveau email" - The page on verso is signed: "email = LoveeverBoy@yahoo.fr C'est le nouveau email"