Devoir de voquoi? De voter? POUAH!
Waffo Ouabo, Philippe
Illustrator country: Cameroon
Scenarist: Waffo Ouabo, Philippe
Scenarist country: Cameroon
Language: French
Keywords: corruption; criminality; democracy; politics

PROJECT:
Participated to Africa e Mediterraneo Award 2009-2010

PUBLISHED IN:
Published in: edited by S. Federici e A. Marchesini Reggiani, Africa Comics 2009-2010, Lai-momo, Sasso Marconi 2010 ISBN: 978-88-89581-28-5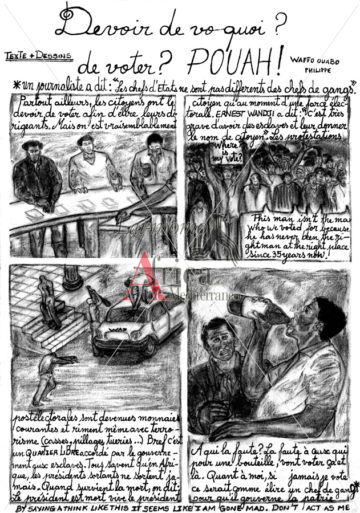 Duty to do what? Vote? POUAH! – A journalist claims: "Heads of states are different from gang leaders". Usually, in decent democracies, citizens vote to elect their leaders. But often in Africa voting doesn't have this effect because corruption erodes the political system.
DETAILS add_circle_outline
Technique: Pencil on paper
Black and White
Original drawings
Dimensions: 21 x 29,7 cm
Inventory: inv. 206 / coll. CX11.CAMEROON.WAFFO.1
Number of sheets: 1