L'aventure de Diack-Bonzo
Biakou, Pansime Brigès (aka Bring de Bang)
Illustrator country: Republic of the Congo (Brazzaville)
Scenarist: Biakou, Pansime Brigès (aka Bring de Bang)
Scenarist country: Republic of the Congo (Brazzaville)
Language: French
Keywords: America; dream; Europe; happiness; village

PROJECT:
Participated to Africa e Mediterraneo Award 2005-2006

PUBLISHED IN:
Published in: edited by S. Federici e A. Marchesini Reggiani, Africa Comics 2005-2006, Lai-momo, Sasso Marconi 2006 ISBN: 978-88-89581-23-0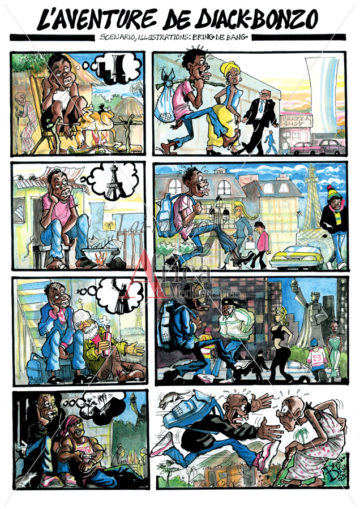 The adventures of Diack Bonzo – A boy from a country village dreams of going to the city, but once he gets there he realises that life is even harder for him there than in the countryside. He then begins dreaming of Europe and so travels to Paris, where he finds himself on a street corner chasing after another dream: America. Unfortunately, thinks are even worse there, and so our friend decides to go back home: there he finds the happiness he has been pursuing for so long.
DETAILS add_circle_outline
Technique: Ink and watercolor on paper
Color
Original drawings
Year: 2005
Dimensions: 29,5 x 41,5 cm
Inventory: inv. 623 / coll. CX30.BRAZZA.BRING.3
Number of sheets: 1
Notes: The page on verso reports the Author's name and contacts, the title, and SM 12