Sergent deux Togos
Kanza, Bob
Illustrator country: Republic of the Congo (Brazzaville)
Scenarist: Kanza, Bob
Scenarist country: Republic of the Congo (Brazzaville)
Language: French
Keywords: corruption; police; theft

PROJECT:
Participated to Matite africane in Europa

PUBLISHED IN:
Published in: edited by S. Federici, A. Marchesini Reggiani, M. Repetti, Matite africane. Fumetti e vignette dall'Africa, Lai-momo, Sasso Marconi 2002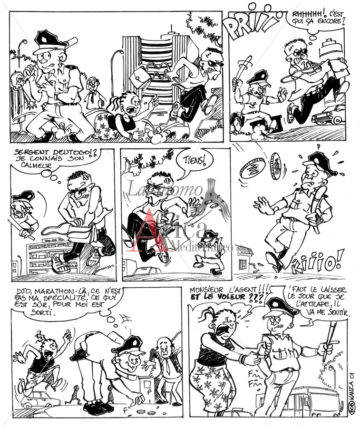 Sergeant "two Togos" – Sergeant Deutogo is following a thief. The thief throws two coins at him and the sergeant stops. When the woman who had been robbed protests against the sergeant, he threatens to punish her in the future.
.
DETAILS add_circle_outline
Technique: Felt tip pen on paper
Black and White
Original drawings
Year: 2001
Dimensions: 27,5 x 33 cm
Exhibited where: Exhibited in Bologna, Accademia di Belle Arti, Istituto Statale d'Arte, March 16 – April 30, 2002
Inventory: inv. 469 / coll. CX30.BRAZZA.KANZA.2
Number of sheets: 1
Notes: The page on verso: Bob Kanza, Bob Destin Zinga Kanza (Congo Brazzaville), 2.2