Ma chérie!!!
Hervé, Alladaye (aka Hodall Beo)
Illustrator country: Benin
Scenarist: Hervé, Alladaye (aka Hodall Beo)
Scenarist country: Benin
Language: French
Keywords: Love; motorcycle; sacrifice

PROJECT:
Participated to Africa e Mediterraneo Award 2007-2008

PUBLISHED IN:
Published in: edited by S. Federici e A. Marchesini Reggiani, Africa Comics 2007-2008, Lai-momo, Sasso Marconi 2009 ISBN: 978-88-89581-292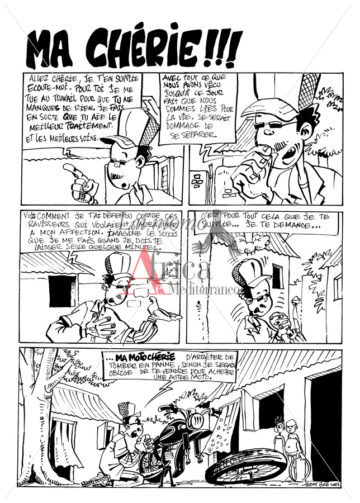 My dear!!! – A boy begs his beloved to not leave him, reminding her of all the sacrifices he has made for her, and all those experiences they have had together which have united them for life. In the name of all this, he begs her to… stop breaking down, or he will be forced to sell her and buy another motorbike!
DETAILS add_circle_outline
Technique: Ink and felt tip pen on paper
Black and White
Original drawings
Year: 2003
Dimensions: 29,7 x 42 cm
Inventory: inv. 556 / coll. CX2.BENIN.HODALL.6
Number of sheets: 1
Notes: On verso: Concours. Nom: Hervé Alladaye (Hodall Beo)