Zambo
Mata Mamengi, Alain (aka Al'Mata)
Illustrator country: Democratic Republic of the Congo
Scenarist: Ngalle Edimo, Christophe (aka Edimo)
Scenarist country: Cameroon
Language: French
Keywords: chase; city; nature

PROJECT:
Participated to Matite africane in Europa

PUBLISHED IN:
Published in: edited by S. Federici, A. Marchesini Reggiani, M. Repetti, Matite africane. Fumetti e vignette dall'Africa, Lai-momo, Sasso Marconi 2002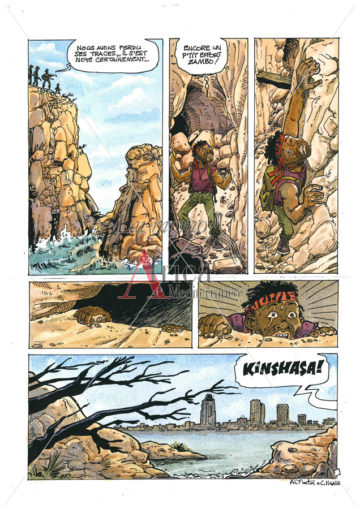 A boy runs away from the men who follow him and climbs up mountains. Suddenly, he catches a glimpse of Kinshasa in front of him.
DETAILS add_circle_outline
Technique: watercolor and tempera on paper
Color
Original drawings
Dimensions: 21 x 29,7 cm
Exhibited where: Exhibited in Bologna, Accademia di Belle Arti, Istituto Statale d'Arte, March 16 – April 30, 2002; Exhibited in Bruxelles, Centre Belge de la Bande Dessinée, June 3 – September 28, 2003
Inventory: inv. 485 / coll. CX24.CONGO.ALMATA.10
Number of sheets: 1
Notes: The page on verso reports Al'Mata's contacts, Mat. Af. 86-1, A&M, titre: Z, scenario: Christophe Ngalle Edimo, dessin: Al'Mata, and C - There is attached a 21 x 29,7 cm paper sheet with the Author's statements about the comic